This is an archived article and the information in the article may be outdated. Please look at the time stamp on the story to see when it was last updated.
SAN DIEGO – Water shot 30-feet in the air after a commercial truck sheared off a fire hydrant before crashing into a bar north of National City Thursday evening.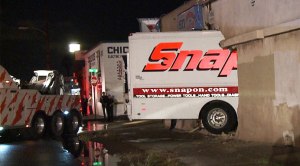 Helicopter video captured crews working to control the geyser around 5 p.m. at 3600 Main Street in Barrio Logan.
Two cars collided causing a Snap-On Racing truck to veer off the road and into Pete's Cocktails and Dancing bar, National City Battalion Chief Larry Silva said.
"Crews arrived on scene and reported no injuries thankfully. We do have severe damage to the business," Silva said.
Dirk and Alice Van Proyen have owned a business nearby for the 30 years and were concerned for the bar's owner.
"I hope that Mike, who owns the bar, can recover from this," Alice Van Proyen said.
"The crash could be disastrous to the bar," Dirk Van Proyen said.
No injuries were reported.
The water was turned off around 5:25 p.m. and the traffic was being diverted away from the area. The truck was pulled from the business, while investigators determined the amount of damage the incident caused.