This is an archived article and the information in the article may be outdated. Please look at the time stamp on the story to see when it was last updated.
SAN DIEGO -- A downed power line at a Core-Columbia intersection shut down a major trolley line through downtown San Diego Tuesday.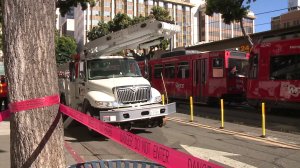 The non-injury mishap at First Avenue and C Street occurred about 2:30 p.m., forcing a cancellation of light-rail service between San Diego City College and Santa Fe Depot pending repairs, according to police and Metropolitan Transit System officials.
Trolley riders needing to travel between the America Plaza and City College stations were encouraged to take Rapid 215, Rapid 235 or Route 992 buses at either station. All three routes serve both City College and Santa Fe Depot.
Passengers at Santa Fe Depot heading east on the Orange Line toward El Cajon or south on the UC San Diego Blue Line were advised to take the Green Line to 12th & Imperial Transit Center and make connections from there.
Trolley service in the affected area was restored by 9:45 p.m.