This is an archived article and the information in the article may be outdated. Please look at the time stamp on the story to see when it was last updated.
SAN DIEGO — A man accused in the shooting deaths of two brothers and a woman who was engaged to one of them — a crime that came to light when two of the victims were found mortally wounded in a parked car at a Mission Valley mall last Christmas Eve — pleaded not guilty Wednesday to murder charges that could lead to the death penalty.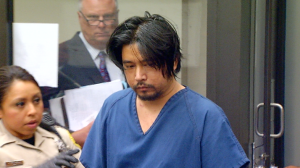 Carlo Gallopa Mercado, who is charged with three counts of murder and a special circumstance allegation of multiple murders, was ordered held without bail.
District Attorney Bonnie Dumanis will decide later whether the 29-year- old defendant will face the death penalty or life in prison without parole if he's convicted.
"The fact that there's three victims in the case that's how it gets to the capital level," explained Deputy District Attorney Brian Erickson.
Mercado's arrest Friday night in Mira Mesa came nearly six months after Ilona Flint and Salvatore Belvedere, both 22, were found fatally shot shortly before 1:30 a.m. Dec. 24 at Westfield Mission Valley,  which was open late for last-minute holiday shopping.
Flint managed to call 911 shortly before she died at the scene. Belvedere died at a hospital two days later.
Gianni Belvedere, 24, was missing for several weeks following the shootings of his fiancee and brother. In mid-January, his body was found in the trunk of a car outside a fast-foot restaurant in Riverside. He also had been shot in the head.
Investigators found "substantial probable cause" linking Mercado to the slayings, homicide Lt. Mike Hastings said, but declined to elaborate. The lieutenant said he wasn't sure there was any relation between the defendant and the victims.
Outside court today, Erickson would not comment on a possible motive.
"At this point, you know, motive can be anything," the prosecutor said. "It is an ongoing investigation."
Mercado's attorney, Michael Berg, said his client was "dismayed" about being arrested and charged with the murders.
Berg said Mercado — whom he called a gun aficionado — was found with two pistols and an assault rifle in his car on Jan. 18 after target practice.
"All the gun charges have been dismissed once he pled guilty to possession of the silencer," sad Berg.
Mercado is scheduled to be sentenced on that case next month, Berg said.
The attorney said he didn't know if prosecutors were alleging that Mercado's guns were used in the killings.
"We don't know any of the facts or circumstances of this case," said Berg.  "There's no motive that's been alleged, there's been nothing to come out that's tied him to these homicides."
A status conference was scheduled July 10 to see if Berg will remain on the case.