This is an archived article and the information in the article may be outdated. Please look at the time stamp on the story to see when it was last updated.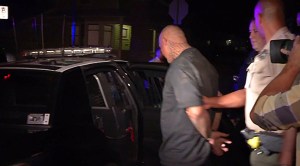 SPRING VALLEY, Calif. — A woman and two men were in custody Thursday on suspicion of robbing two people at gunpoint in Spring Valley and later leading deputies on a brief car chase, authorities said.
The armed robbery at 9902 Jamacha Blvd. was reported at 9:06 p.m. Wednesday, according to San Diego County sheriff's Sgt. Victor Rivera.
The victims told deputies that a woman and two men armed with a shotgun and a handgun had robbed them of their cell phones and a watch, then fled in a older model white Ford Thunderbird, he said in a statement.
Deputies checked the area and spotted the vehicle, Rivera said, adding that a car chase ensued until deputies lost sight of the vehicle in the area of Spring Street and Highway 94.
Later, with help from police helicopters, the Thunderbird was found at Fresno and Palm avenues in La Mesa.
"A continued search of the area ended up with three suspects in custody, a recovered shotgun and the suspects' vehicle," Rivera said.