This is an archived article and the information in the article may be outdated. Please look at the time stamp on the story to see when it was last updated.
SAN DIEGO — A judge Tuesday dismissed assault charges against three San Diego firefighters accused of robbing a man after a dispute with his brother outside a Normal Heights bar, but the defendants still face felony counts of robbery, trying to dissuade a witness and making criminal threats.
Vadid Cisneros, 38, Andrew Brennen, 31, and Gregory Econie, 27, each face a maximum five years in prison if convicted in connection with the Feb. 26, 2012, incident involving Luis and Willie Martinez.
After a weeklong preliminary hearing in September 2012, Judge Frederic Link threw out robbery and aggravated assault charges against the defendants, but prosecutors re-filed the counts.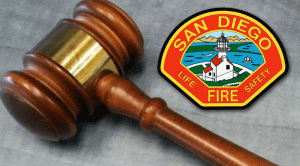 Tuesday, Judge Charles Rogers granted a defense motion to dismiss the assault charges a second time, but let the robbery counts stand. Trial was set for April 7.
Guadalupe Valencia, the attorney for Cisneros, said the defendants were never the aggressors and defended themselves when attacked. She said the firefighters are back at work while awaiting trial.
"This is a very difficult moment for all three of the defendants," Valencia said outside court."Their lives are pretty much on hold until a jury determines the outcome of this case. There is no closure yet."
Econie testified last year that he, his two off-duty colleagues and two female friends were exiting the Ould Sod bar on Adams Avenue about 2 a.m. when one of the women started kissing a man on a nearby bench.
Econie said Luis Martinez walked up and started taking photos of the couple with his cell phone, commenting on how much money he could make by posting the photos on Facebook.
Econie said he, Cisneros and Brennen were walking south toward his home when Willie Martinez jumped off a bicycle and hit him in the face.
Willie Martinez would later tell police that he had used methamphetamine the day before, according to court testimony.
Econie said a disheveled Willie Martinez dropped his wallet while leaning against a building, and Brennen picked some of its contents off the ground.
Deputy District Attorney Michael Runyon alleged that the defendants followed the Martinez brothers after leaving the bar, confronted Willie Martinez, and went through his pockets.
Runyon said one of the defendants took Willie Martinez's wallet and pulled out various items, including an identification card and a picture of one of his sons and said, "We got you. We know where you live."
———- Story by Kelly Wheeler with City News Service