This is an archived article and the information in the article may be outdated. Please look at the time stamp on the story to see when it was last updated.
EL CAJON, Calif. — A woman accused of causing a head-on crash on Buckman Springs Road that killed a U.S. Forest Service firefighter on his motorcycle must stand trial on a charge of gross vehicular manslaughter, a judge ruled Friday.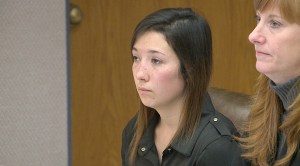 Natasia Wood, 22, faces a maximum of six years in prison if convicted of the felony charge in the death of 37-year-old Darin Steffey last October. The crash happened around 6:15 on the evening of Oct. 3 on a curvy portion of Buckman Springs Road in Campo.
California Highway Patrol Officer Benjamin Montgomery testified at a preliminary hearing Friday that Wood was driving her roommate's Dodge Durango sport utility vehicle southbound on the two-lane road when she lost control on a sharp left turn and veered into the northbound lanes.
"She very clearly said she was speeding and that she had killed the motorcyclist… she recalled approaching this particular curvature in the road and verifying her speedometer at 77 miles per hour," said Montgomery.
When the SUV entered the northbound lane it collided with Steffey, who was riding a Yamaha 600 motorcycle.
Montgomery testified that evidence showed that the motorcycle went underneath the SUV while Steffey was ejected and hit the hood and windshield of the Durango.
Edward Phillips, an accident reconstruction specialist for San Diego County, testified that an Event Data Recorder recovered from the SUV showed Wood traveling at a speed of 73 mph five seconds before the crash, and that she did not apply her brakes until a half-second before the accident.
Steffey, who had just finished a shift at the Glen Cliff Fire Station, was heading into Campo to check his mail and a post office box and eat dinner, members of his family said after the hearing.
Steffey was pronounced dead at the scene of the accident. The cause of death was multiple blunt force injuries, Montgomery testified.
The victim's family described him as sweet and affectionate. They said Steffey served four years as a firefighter in the Air Force. worked one year as a hotshot firefighter and loved his job as a U.S. Forest Service firefighter.
His family said Steffey only rode his motorcycle in Campo, usually from the Glen Cliff station to his barracks three miles away.
After the preliminary hearing, Steffey's family members said they were pleased that Judge Daniel Goldstein found there was enough evidence for Wood to stand trial on the felony charge rather than a misdemeanor.
"I'm relieved," said Jessica Raddatz, the 26-year-old girlfriend of Steffey who wore a shirt with the image of the couple together in Hawaii last year. "We've been waiting six months for this opportunity to have a preliminary hearing and we got the result that we wanted today. I want full felony and I want full gross negligence … (Wood) took my whole world."