This is an archived article and the information in the article may be outdated. Please look at the time stamp on the story to see when it was last updated.
SAN DIEGO — A biotech executive accused of wounding his estranged wife's brother and a former business partner in separate shootings in La Jolla last year must stand trial on attempted murder and other charges, a judge ruled Monday.
Hans Petersen, 49, faces up to 96 years to life in prison if convicted of the Sept. 18 shootings, said Deputy District Attorney Amy Maund.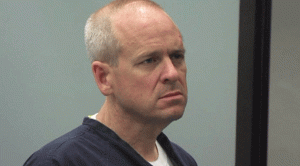 Petersen's girlfriend, Jeanne Henry, testified during Monday's preliminary hearing that the defendant seemed "agitated" and "focused" as he worked on his computer about 12:30 a.m. the morning of the attacks.
Henry said she tried repeatedly to get Petersen to come to bed, but he said he had to finish an email.
"It was frustrating to me," the woman said.
Henry told defense attorney Marc Carlos that Petersen had been drinking and seemed very angry. She said the defendant never mentioned his estranged wife or former business partner.
Henry said Petersen finally came to bed about 1:30 a.m., but she woke up to find him gone.
At Petersen's arraignment last year, Maund said the defendant had two intended "targets."
About 3 that morning, Petersen fired his gun into the master bedroom of 53-year-old Steven Dowdy, a UC San Diego researcher and former business associate, Maund alleged.
Dowdy said he was sleeping with his wife in their La Jolla home when bullets came from outside through their French doors into the bedroom.
"I yelled, 'I'm hit! I'm hit' and then there was a third shot and at that point I realized the person was not there to rob our house but in fact was there to kill me," Dowdy told the court Monday.
Dowdy said he threw picture frames at the shooter to try to keep him outside.
"While he's trying to reload, he's got to constantly reach up and try to block what I'm throwing at him and I'm yelling at him as loud as I can at him just trying to distract him as much as possible," said Dowdy.
Dowdy said he feared for the safety of his wife as well as his son and daughter who were in the home.
He said his relationship with Peterson soured when Peterson lost his job.  He said Peterson sent nasty emails threatening Dowdy's career.  He said after he hit Peterson particularly hard in the head with a picture frame, he finally took off running.
About four hours later, Petersen allegedly broke into a home on Cottontail Lane and fired randomly until he found his second "intended target," the 43-year-old brother of Petersen's estranged wife, according to Maund.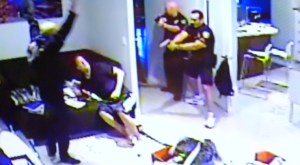 Cameras inside Fletcher's home captured a man walking through the home with a gun.
Ronald Fletcher was shot in the stomach but was able to disarm the defendant, Maund said.
Video shows the two arguing outside the bedroom.  Fletcher said he grabbed the gun and tried to shoot Peterson but it didn't go off.  He said Peterson kept attacking him until officers arrived.
Police said the relationship between Petersen and Dowdy began to sour when Petersen lost his job and blamed Dowdy, and the suspect allegedly targeted Fletcher because of the role he played in his sister's separation from Petersen.
An emergency room physician, Dr. Mike Nielsen, also testified Monday. He was driving home from work last Sept. 18 about 5 a.m. in the same La Jolla neighborhood when he noticed a person walking very quickly and "suspiciously" among some trees and bushes.
Nielsen said he turned his car's headlights toward the area and saw the person behind a tree.
As Nielsen rolled down the window to say something, the person — identified as Petersen — stepped out from behind the tree and pointed a gun at him, the witness said.
"I saw what looked like a gun to me in his right hand," Nielsen testified.
The physician said he hit the gas pedal, ducked and drove home. Nielsen said he tended to his crying year-old child and eventually called 911.
According to Petersen's online resume, he is CEO of Bays Four Corp., a genome data-analysis firm headquartered in La Jolla.
Judge Leo Valentine Jr. ruled that enough evidence was presented for Petersen to stand trial on three counts of premeditated attempted murder and charges of shooting at an inhabited dwelling and first-degree burglary, along with a misdemeanor charge of displaying a weapon in a menacing manner.
A status conference was set for June 13 and trial for Sept. 15.
Peterson is being held on $5 million bail.
—— City News Service reporter Kelly Wheeler contributed to this story.