This is an archived article and the information in the article may be outdated. Please look at the time stamp on the story to see when it was last updated.
SAN DIEGO – Opening statements began Tuesday in the trial of a caretaker accused of killing an 88-year-old Rancho Bernardo man and draining more than $500,000 from his bank accounts.
Denise Goodwin, 47, was charged with a dozen counts, including murder and also faces a special circumstance allegation of murder for financial gain.
S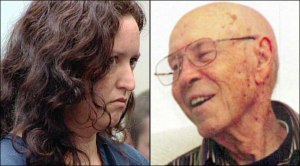 he's accused in the death of Gerald Eugene Rabourn, who disappeared in October 2010 and is body has not been found.
In his opening statement, Deputy District Attorney Bill Mitchell told jurors that in 2009, Goodwin stole from a man dying of brain cancer before being hired to care for Rabourn's 91-year-old wife.
Mitchell argued days after Carolyn Rabourn's death Goodwin began converting the couple's assets for her own personal use.
"This was Goodwin's last day working for Comfort Care," said Mitchell. "She never took another job with the company or another assignment. She had found her golden goose."
Gerald Rabourn's daughter, Mary Weaver, took the stand Tuesday and described how in the days following her stepmother's death, she noticed her relationship with her father changing.
"'I don't want you to come,'" Weaver said describing what her father would tell her. "I was kind of shocked, because that's not like my dad at all."
Weaver testified Rabourn always had plans to move to Kansas to live with her following his wife's death. When Carolyn passed away from cancer on September 29, Weaver said her father suddenly had different plans.
"'I'm not going to be here.' I said, 'where are you going to be?' He said, 'Oh, I'm going to stay with Denise.' I said, 'who is Denise?'" said Weaver, explaining one of the last conversations she had with her dad on October 19.
Police said about the same time, there was an abrupt end to cell phone and financial activity.
Weaver reported Gerald Rabourn missing the following February when she said she didn't get a birthday card.
Police arrested Goodwin in July 2011 as she boarded a flight for a European vacation.
If convicted, she could face life in prison without parole.