This is an archived article and the information in the article may be outdated. Please look at the time stamp on the story to see when it was last updated.
LOS ANGELES — A grimacing Bart Simpson scrawls the phrase "BEING RIGHT SUCKS" over and over again on a classroom chalkboard in the open to the latest episode of "The Simpsons."
The tease was produced as a response to a 2000 episode, which predicted a Trump presidency.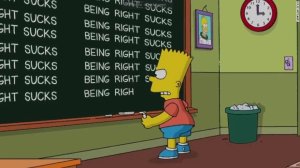 "Bart to the Future," produced over 16 years ago, was a look into main character Bart Simpson's future. Bart is depicted as a failing musician, while his sister, Lisa Simpson, becomes the first female president following her predecessor — Donald J. Trump.
"We're broke," a member of her staff says, as he holds a board with tanking trends.
"The whole country is broke!?" says President Lisa Simpson.
The episode was written as a "warning to America," show writer Dan Greaney told The Hollywood Reporter.
"And that just seemed like the logical last stop before hitting bottom. It was pitched because it was consistent with the vision of America going insane."
The show also predicted a woman will follow Trump. Will they be right again?