This is an archived article and the information in the article may be outdated. Please look at the time stamp on the story to see when it was last updated.
SAN DIEGO – Video surfaced showing two San Diego police officers helping a disabled Vietnam veteran get home after he was left stranded on his motorized scooter over Memorial Day weekend.
Officers Eric Cooper and Milo Shields happened upon 67-year-old Gilbert LaRocque on Clairemont Mesa Boulevard Sunday. The scooter he relies on to get around had run out of power and he could not walk home.
A passerby offered to give him a ride, but could not take his 300 pound scooter. That's when the officers arrived.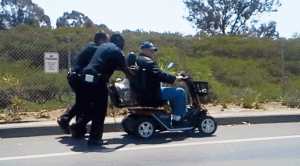 LaRocque said Cooper and Shields decided to push the scooter with him seated inside back to his Clairemont home on Convoy Court.
"He told the other officer, 'Are you up for a walk?' The other officer said, 'Yeah.' They gave me a push all the way home. If it weren't for them, I don't know what I would have done," LaRocque said.
LaRocque had been running errands that day. He started off at the Food for Less on Clairemont Mesa Boulevard then worked his way to KFC. He said he started to notice his battery life diminishing quickly before it eventually ran out and left him stranded.
LaRocque also said on 100 percent battery life, the scooter should be able to travel close to 20 miles. He had only been traveling an estimated 3 miles.
"I was surprised that [the officers would] push me that far," LaRocque said.
The Army veteran did not realize someone had recorded video of the officers pushing him in his scooter. He is excited people have taken an interest to the story.
"I'm thinking about standing out in front of the parking lot and giving people my autograph," LaRocque said.