This is an archived article and the information in the article may be outdated. Please look at the time stamp on the story to see when it was last updated.
SAN DIEGO – A San Diego man was front and center at the Charlotte riots giving out free hugs.
Wednesday night, Ken Nwadike of San Diego was in Charlotte giving out free hugs to the riot police – not everyone was happy about it. Other people were angry with him for hugging the police.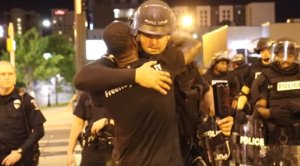 It happened during the second night of unrest in Charlotte in response of police killing a black man.
You might remember FOX 5 profiled Nwadike in May when he stopped by to explain his Free Hugs Project.  He documents his experience through social media. His viral videos have been seen more than 125 million times.
Nwadike, a lifelong runner, was inspired after seeing the horrors at the Boston Marathon in 2013.
"I wanted to figure out a creative way to pay my respects, so I said if there was a bomb there I'm just going to be the 'love bomb!'" he said. "The following year I went out to the race and I just decided to hug people."
He attributes his deep empathy and desire to help others from being homeless as a child.