This is an archived article and the information in the article may be outdated. Please look at the time stamp on the story to see when it was last updated.
SAN DIEGO – Pop Star Nick Lachey was reportedly escorted out of Sunday's Cincinnati Bengals game against the San Diego Chargers at Qualcomm Stadium.
The Cincinnati native tweeted a photo from inside Qualcomm Stadium, then tweeted again three hours later.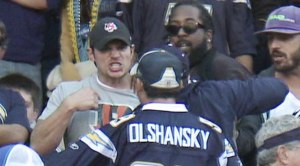 "Just got kicked out of the Chargers Stadium and couldn't be prouder!  Go Cincy Bengals! #whodey."
Lachey was kicked out after security officers determined his trash talk crossed the line, according to celebrity website TMZ.
On Monday, Lachey continued to tweet about the incident in Qualcomm.
"For the record, I was not kicked out of the Chargers game for excessive 'trash talking'. No, that honor belonged to the guy in front of me!" Lachey tweeted. "Again, aside from a few exceptions, I had a great time hanging with Charger fans all afternoon. Honestly, some of the nicest fans around."
Lachey is a former band member of 98 Degrees and was previously married to Jessica Simpson.