This is an archived article and the information in the article may be outdated. Please look at the time stamp on the story to see when it was last updated.
MALIBU, Calif. – City officials say a sign posted on Pacific Coast Highway in Malibu that drew quite a bit of attention was a mean prank, the Los Angeles Times reported.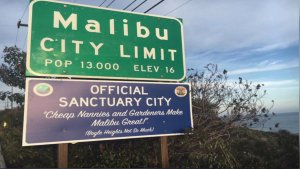 The sign, complete with official city and California seals, read: "Official Sanctuary City 'Cheap Nannies and Gardeners Make Malibu Great!' (Boyle Heights Not So Much.)"
Malibu city officials said the sign was not put up by the city.
A California State Parks employee reported the sign to authorities Tuesday, Malibu Councilwoman Laura Rosenthal said. The sign had already been taken down by the time deputies showed up to investigate.