This is an archived article and the information in the article may be outdated. Please look at the time stamp on the story to see when it was last updated.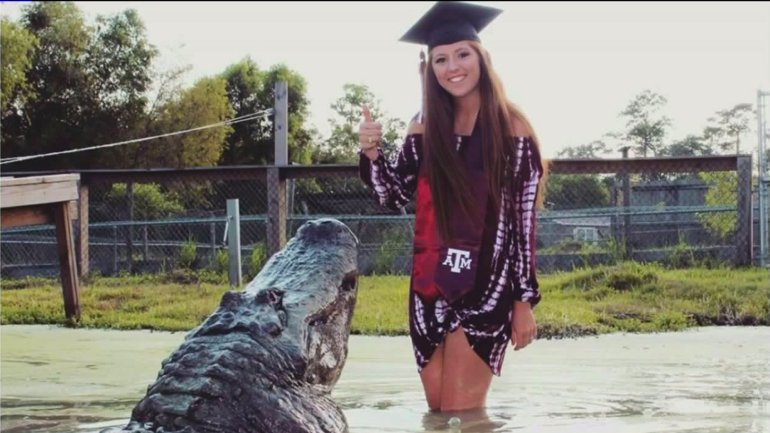 COLLEGE STATION, Texas — Every graduate wants that memorable graduation photo. But very few could be as unforgettable as native Makenzie Noland standing knee deep in water — with a giant alligator.
No, there's no Photoshop involved! The 21-year-old Texas A&M senior really is in the water, wearing her gap & stole and posing with the gator.
Makenzie is about to graduate, and she`s currently interning at Gator Country in Beaumont. As for the gator, that fella is Big Tex and he's almost 14 feet-long.
We got hold of Makenzie, who said now that Big Tex is used to her, he's just a big ole puppy dog.
"I get in the water with him every day. I can call him up out of his den, and then we reward him, kind of like you reward your dog for sitting or something. So we call him out of the den and I tickle his nose and go `Up, up, up,' and then he raises all the way up on his front legs. And then I drop a piece of meat in his mouth, to tell him that he did a good job. Whenever he goes back in the water, I can rub my hand all over his nose, basically tell him that he did good. I can kiss him on the snout. Pretty fun stuff," Makenzie said.
Makenzie learned Big Tex's favorite tricks and he warmed up to her, but she said all the gators have different personalities — and some are not definitely not as friendly.
Since posting the photos to social media, Makenzie has gotten feedback from some people who love it — and some people who think it`s crazy.
But for the skeptics out there, she says come on down to Gator Country!
Like many college seniors on the brink of graduation, Makenzie is looking for a job; she would love to work at the Fort Worth Zoo or Dallas Zoo.
Click here for updates on this story