This is an archived article and the information in the article may be outdated. Please look at the time stamp on the story to see when it was last updated.
FRESNO, Calif. – A California woman's mugshot has received international attention this week after she was arrested on gun charges.
Mirella Ponce, 20, was arrested Monday during a traffic stop. According to the Fresno Police Department, Ponce is a TRG gang member and had a loaded firearm. She was with her infant child and two other gang members when pulled over, police said. Ponce was booked in the Frenso County jail.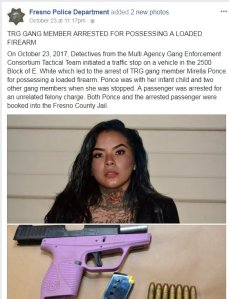 Regardless of the charges, when Ponce is released from jail, she may have to fend off numerous admirers.
A mugshot of Ponce appeared on the FPD Facebook page and it garnered attention across the globe.  Some professed their love, while others were in disbelief that a mother would allegedly put a baby in harm's way.
"The only crime she committed was stealing my heart," one man posted.
"Those are the best looking eyebrows I've seen on this page," another person commented.
"Sad no one is understanding she put her child's life in danger.. But are excited about her looks.. Are you kidding me?" one commenter posted.
A judge ordered Ponce be held on $50,000 bail.
Some pondered if Ponce was the new "hot felon" — taking after Jeremy Meeks.