This is an archived article and the information in the article may be outdated. Please look at the time stamp on the story to see when it was last updated.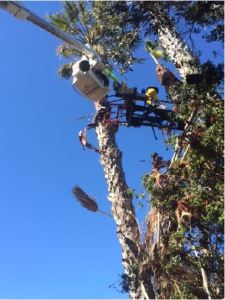 ENCINITAS, Calif. — A tree trimmer was recovering Thursday from minor injuries suffered when he was pinned beneath dead palm fronds about 20 feet up a tree in Encinitas.
Crews from the Encinitas, Carlsbad and Solana Beach fire departments sent to the 1400 block of Eolus Avenue near Glaucus Street shortly after 11 a.m. Wednesday found the man trapped under a heavy pile of fronds and unable to move, according to Battalion Chief Robert Ford of the Encinitas Fire Department.
Rescuers used a ladder truck to access the victim and removed the fronds. Ford said the tree trimmer was tied to the palm with his safety belt at the time and was awake and alert.
The tree trimmer was brought to the ground where paramedics were waiting, Ford said. He was taken to Scripps Memorial Hospital La Jolla to be treated for minor injuries, according to the battalion chief.