This is an archived article and the information in the article may be outdated. Please look at the time stamp on the story to see when it was last updated.
ESCONDIDO, Calif. – A man and his pregnant wife were asleep when a large oak tree toppled onto their house in Escondido Friday morning, authorities said.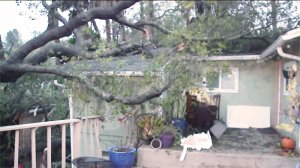 Firefighters in Escondido went to the house on Jesmond Drive around 3 a.m. after getting a report of a fallen tree.
The tree had fallen onto the bedroom where the couple was sleeping. They were able to get out of the house unharmed.  The pregnant woman was taken to the hospital to be evaluated and was released hours later.
The homeowner reportedly purchased the property based on his love for oak trees.
Record-setting rainfall drenched San Diego County Thursday, prompting widespread flooding, fallen trees, mudslides and other storm-related hazards across the soaked region.  The National Weather Service reported 3.35 inches of rain in Escondido over a 48-hour period.