This is an archived article and the information in the article may be outdated. Please look at the time stamp on the story to see when it was last updated.
SAN DIEGO — The number of passengers at Lindbergh Field last year neared pre-recession levels, and the amount of international travelers set a record for the second year in a row, according to figures released by the San Diego County Regional Airport Authority.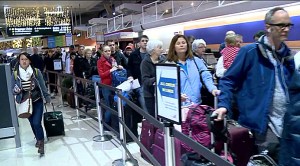 About 17.7 million passengers went through the gates at Lindbergh Field in 2013, around 400,000 more than in 2012, according to the data released Tuesday. The total is the highest since 18.1 million passengers used the airport in 2008 and 18.3 million passed through in 2007.
The airport reported that 627,596 people flew to or from international destinations, a 21.5 percent increase over the previous year.
The international passenger record was driven by nonstop service between San Diego and Tokyo on Japan Airlines, London on British Airways, Cabo San Lucas on Alaska and Spirit airlines, Mexico City on Volaris, Calgary on WestJet, and Toronto on Air Canada, Airport Authority officials said.
The newly released data also showed that 162,353 tons of cargo and mail were flown to and from Lindbergh Field in 2013, a 4.3 percent increase over the previous year.
The number of flight operations showed an increase of 0.9 percent for the year to 187,935 — an average of just under 515 operations a day.