This is an archived article and the information in the article may be outdated. Please look at the time stamp on the story to see when it was last updated.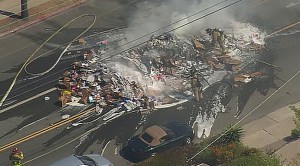 SAN DIEGO — A garbage truck had to dump its load in the middle of a street in North Park Tuesday after it caught fire.
Firefighters were called to Texas Street and Howard Avenue at about 11:15 a.m. after the truck operator dumped the burning refuse in the middle of the roadway.
They sprayed down the smoking pile and quickly extinguished the blaze.
There were no injuries, but traffic lanes were closed until the mess could be cleaned up.