This is an archived article and the information in the article may be outdated. Please look at the time stamp on the story to see when it was last updated.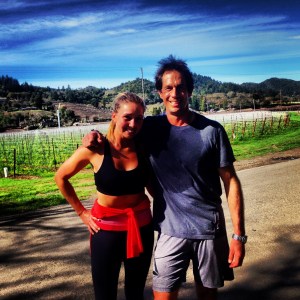 HOW DO YOU DO IT?
Training on vacation or a weekend get-a-way can be one of the best ways to log your miles. This particular weekend I had a wedding, wine tasting, and good bye brunch for the bride and groom. Translate that: cocktails, wine, and unlimited bloody marys. For those who can handle all of that and still get their training in, good for you! I personally need to run a cleaner engine to see my hard work pay off, so instead of a daytime wine tour, I decided to tour the countryside in Healdsburg, CA on my own two feet.
THE ROUTE
Concierges at the Hotel Healdsburg were amazing! They printed out a 12 mile bike route that visitors take around the vineyards, and suggested it for a low traffic running route too! perfect! My favorite running partner, my fiancé, and I laced up and were out the door. We were joined by another wedding guest who was jonesing to break a sweat before the wedding festivities, and he made for great company. We ran through some of the most beautiful countryside. It was sunny, hot, dry and a perfect day to get some of our training miles in uncharted territory. We did get a few funny glances from wine tasters, realizing we were clearly on our own tour that only included water stops. We could have tried to stop for a tasting, but I think that would have made for a very interesting run back to the hotel.
THE PACE
All in all, we logged anywhere between 7 to 8 minute miles for 12 full miles. Including our warmup (9 minute miles) we ended having an average pace of 8:20. Not too bad for not knowing where we were going!
THE TAKEAWAY
Don't hesitate to find a new route, and maybe even get lost in a new place. It's fun to change up your training, but make sure you bring a phone or GPS to help you along the way.