This is an archived article and the information in the article may be outdated. Please look at the time stamp on the story to see when it was last updated.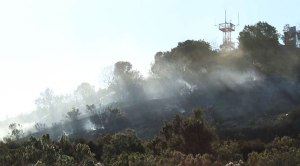 EL CAJON, Calif. — Firefighters are investigating whether a joint fire-police SWAT team exercise — which used some sort of smoke bomb during an official Red Flag wind warning — may have sparked a brushfire that injured one firefighter and briefly threatened houses, firefighters said Sunday.
A firefighter sustained a knee injury, and the 4-acre fire briefly threatened homes near an El Cajon police shooting range near Gillespie Field in El Cajon, fire officials said Sunday.
The fire broke out four hours after the National Weather Service in San Diego had sent advisories that repeated that Red Flag Warnings were in effect in San Diego County. "A Red Flag Warning means that critical fire weather conditions are either occurring now or will shortly," according to the NWS. "A combination of strong winds, low relative humidity and warm temperatures will create explosive fire growth potential."
City of El Cajon spokeswoman Monica Zech told City News Service that investigators will be in Monday, and said they may follow up.
The vegetation fire was reported about 2:50 p.m. Saturday near Weld Drive and Cuyamaca Street, according to Sonny Saghera, public information officer for Heartland Fire & Rescue.
Firefighters and El Cajon police were conducting the joint SWAT exercise on a firing range on nearby Reuben Fleet Drive just before the fire was reported, Saghera said. Investigators had no made no determination but continued to look into whether that training sparked the blaze, he said.
The fire moved uphill in light flashy fuels and briefly threatened homes on Hacienda Drive, but none were damaged, Saghera said. Several engines protected the homes and radio transmission lines, Saghera said.
The fire was reported as contained at 3:44 p.m., a Heartland Fire & Rescue dispatcher said.
One firefighter was taken to Grossmont Hospital in stable condition to be treated for a knee injury, Saghera said.
The 1800 block of Hacienda Drive temporarily was closed, according to El Cajon police.