This is an archived article and the information in the article may be outdated. Please look at the time stamp on the story to see when it was last updated.
SAN DIEGO -- A member of the Escondido Mounted Posse was killed Saturday when her horse was spooked and fell, knocking her to the ground.
Diana Cavender was riding to a staging area after the Lakeside Parade Saturday when the horse lost control, falling to the ground on its side and whipping the woman to the ground, according to the group's captain, Al Pfeltz.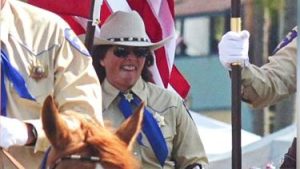 "We still had about 75 yards to go when (her) horse sort of took off and went to the front of the posse," said Pfeltz. "It reared, from what I can recall, it spun and then suddenly all of its hoofs went out from underneath it and it slammed down on its right side whipping Diana into the asphalt."
Cavender's husband watched as the scene took place. The couple were married 3 years ago.
"She was an excellent rider, she`s probably the best rider in the posse," said Pfeltz. "(It's) very unnerving, let`s put it that way, because we don`t know how badly she`s hurt at this point in time or what it is but we can see she`s not moving."
Emergency crews arrived on the scene off Channel Road in Lakeside and rushed the rider to Sharp Memorial Hospital. She died a few hours after.
Friends say Cavender owned the horse and had ridden it in several other parades without incident. Cavender had been a rider in the group for more than 6 years, said Pfeltz.
Cavender was not wearing a helmet.
"Most members are in shock and awe, the group has been around since 1948 and we have never had one of our riders get killed in a parade,'' Pfeltz said. "The things I will remember most about her are that she was a child of God, very religious, she really loved her husband and she was an expert equestrian rider.''
Cavender had appeared in about 50 parades over the course of the six years that she was a member of the posse, according to Pfeltz. Her horse was not injured in the fall.
"Very stable, I mean that horse has never caused her any problems," said Pfeltz. "This was an accident so I don`t blame the horse and I`m sure her husband doesn`t blame the horse either."
A memorial was planned at the Escondido Mounted Posse's regular monthly meeting at 7 p.m. Tuesday in the Mitchell Room at Escondido City Hall, 201 N. Broadway. Cavender is survived by her husband and 17 horses.