This is an archived article and the information in the article may be outdated. Please look at the time stamp on the story to see when it was last updated.
CORZET, Va. – A train carrying members of Congress — including House Speaker Paul Ryan — to their legislative retreat in West Virginia hit a truck Wednesday, multiple sources told CNN, leaving at least one person dead.
Multiple sources said that all members of Congress on the train and their families were okay, with the exception of a few minor injuries. White House press secretary Sarah Sanders confirmed in a statement that there was at least one fatality from the collision, though it was unclear who that was.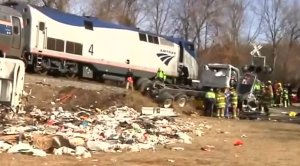 "The President has been fully briefed on the situation in Virginia and is receiving regular updates," Sanders said in her statement. "There is one confirmed fatality and one serious injury. There are no serious injuries among members of Congress or their staff."
An aide confirmed Ryan was on the train and is fine. Separately, a congressman on the train told CNN most of the staff and members on the train are okay.
Republican members of Congress were on their way for a retreat at The Greenbrier in White Sulphur Springs, West Virginia, starting Wednesday and ending Friday. Vice President Mike Pence, who was not on the train, is scheduled to speak to members later Wednesday and President Donald Trump is scheduled to address the event tomorrow.
"No serious injuries on the train," another source said, adding there were only "bumps and bruises" for those on the train.
Several members of Congress have medical training and assisted the injured. Rep. Roger Marshall's office says the Kansas congressman and doctor helped individuals who needed medical attention, including performing CPR on a train worker that his office understands was a train conductor.
Rep. John Faso, a New York Republican, who was on the train that crashed, said he was able to see the truck that hit the train, and that he was told that injuries were expected from people in the truck, not the train.
"There was (what) looks like a tractor trailer carrying trash that was hit by the train," Faso, who said he was in the third car of the train, told CNN.
"I think everyone on the train is OK," Faso said. "I don't know that for sure, it's a long train. But most of the concern is for the people outside."
One GOP source was unsure how many members of Congress were on the train or how many people were injured, but said there were injuries.
That source said members "hit the deck."
Other Republican members of Congress tweeted that they were OK in the moments after the crash.
"I am safe and was not on board the train in West Virginia. Thank you to those who have reached out and please pray for the safety of all involved," Rep. Elise Stefanik, a New York Republican, tweeted.
"Our train heading to the GOP Retreat in West Virginia has been involved in an accident. I am safe but first responders are treating minor injuries on the train & treating the truck drivers. Praying….," Sen. James Lankford of Oklahoma tweeted.
"We're fine, but our train hit a garbage truck. Members with medical training are assisting the drivers of the truck," Rep. Greg Walden, an Oregon Republican, tweeted.
I was not aboard the train involved in the accident today. Please join me in prayer for all who were injured and their families.

— Darrell Issa (@DarrellIssa) January 31, 2018
I am on the train, but I am okay. https://t.co/wmOjatHw9S

— Rep. Don Bacon (@RepDonBacon) January 31, 2018
The train carrying GOP members to our retreat had a collision, but Rebecca and I are both okay. Security and doctors on board are helping secure the scene and treat injuries.

— Rep. Bradley Byrne (@RepByrne) January 31, 2018