This is an archived article and the information in the article may be outdated. Please look at the time stamp on the story to see when it was last updated.
RAMONA, Calif. — A trail to a popular backcountry waterfall reopened Friday after being closed for more than a year and a half, but hikers will have to follow a number of new rules.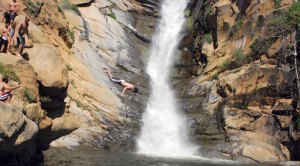 The trail from Thornbush Road in San Diego Country Estates to the spectacular 80-foot waterfall and swimming hole was closed in July 2011 after 16-year-old Joseph Meram of El Cajon fell to his death at the waterfall. The falls, which are less than a mile from the confluence of Cedar Creek and the San Diego River, had become a popular summer destination attracting crowds of young people.
The U.S Forest Service reopened the trail under new rules designed to limit the crowds and prevent injuries. Visitors are now required to get a $6 permit before hiking to the falls. They can get permits at www.recreation.gov. Only 75 permits a day will be issued.
Other rules include:
No alcohol allowed,
No jumping or diving from the rocks surround the pool,
No motorized vehicles on the trail,
Cars blocking roadway or driveways near the trailhead will be towed at owner's expense.
Swimming is allowed at the falls. Horses and bicycles are allowed on the trail from Thornbush Road.
Officials said Sheriff's deputies and Forest Service rangers will strictly enforce the permit requirement and other new rules.
Sheriff's officials said the trail to the falls is a 5.5-mile roundtrip with no shade. The trail back is mostly uphill. It can get very hot in summer, so hikers should wear appropriate clothing and footwear and bring plenty of water.
The eastern entrance to Cedar Creek Falls, off Eagle Peak Road near Julian, reopened last April.