This is an archived article and the information in the article may be outdated. Please look at the time stamp on the story to see when it was last updated.
Los Angeles County coroner and sheriff's homicide detectives were trying to determine Monday whether a torso found at a San Gabriel Valley sanitation plant goes with a pelvis and legs discovered at a Carson treatment facility over the weekend.
Craig Harvey, chief of the coroner's office, said a human torso was found Monday at the San Jose Creek Water Reclamation Plant on Workman Mill Road near Whittier.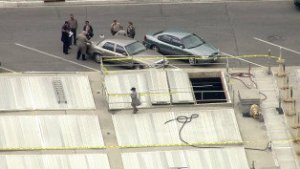 He said investigators don't know if the torso is from the same body as the pelvis and legs found at a facility in Carson on Saturday.
"We'll examine the remains and use DNA if necessary to see if they are connected," Harvey said.
Harvey noted that bodies and other human remains do occasionally turn up in the sanitation systems.
Don Avila, a spokesman for the Sanitation Districts of Los Angeles County, said the two plants are interconnected. Sewage pipes as large as 12 feet in diameter connect seven facilities across the region.
Saturday about 8 a.m., an employee notified authorities of remains at the Joint Water Pollution Control Plant in the 24500 block of South Figueroa Street in Carson.
The pelvis and legs were recovered from a bin that separates solid materials and debris from liquid, officials said.