This is an archived article and the information in the article may be outdated. Please look at the time stamp on the story to see when it was last updated.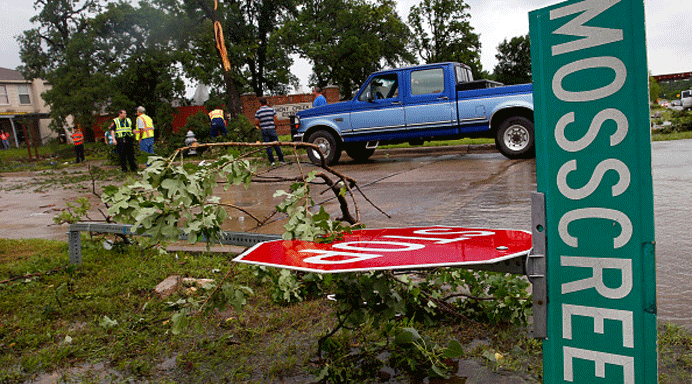 DALLAS – Severe weather continued to grip much of the nation's midsection Sunday, with thunderstorms and tornadoes keeping residents on watch.
A tornado made landfall in Iowa and was heading toward Lake City on Sunday evening. The town of about 1,700 is about halfway between Des Moines and Sioux City.
Texas and South Dakota also experienced tornadoes, as well as heavy rainfall and baseball-size hail, and thunderstorm warnings splashed across much of the Midwest.
A tornado touched down near Denton, Texas, on Sunday afternoon, though no injuries have been reported. It did not directly damage any structures, although it caused some trees to fall on homes, according to the Denton Police Department.
Throughout the Dallas-Fort Worth area, a tornado watch will remain in effect until 9 p.m. local time, according to the National Weather Service. One person was killed Saturday when a tornado hit Eastland County, about 130 miles west of Dallas.
"We're looking at more storms into the evening and we're asking people to remain on watch. Just keep tabs on the weather and look for alerts," said Matt Stalley, a meteorologist with the weather service in Fort Worth.
The storms also brought flooding — notably in Krum, Texas, a few miles northwest of Denton, where some people climbed onto their roofs as waters rose.
Flash flood warnings are to remain in effect in parts of north-central Texas into Monday morning. "The flooding will be a persistent problem with the thunderstorms," Stalley said.
A separate tornado went through Delmont, S.D., on Sunday morning, damaging more than 20 buildings, according to the NWS. According to local media, Gov. Dennis Daugaard said nine people were hurt, none severely.

The tornado traveled more than 17 miles and had winds that reached about 130 mph, the NWS said.
Residents of Delmont were asked to leave town for safety reasons, South Dakota Department of Public Safety spokeswoman Kristi Turman told the Associated Press. According to the 2010 census, about 230 people live there.
The NWS in Sioux Falls, S.D., issued a severe thunderstorm warning in the southeastern part of the state for much of the evening, saying 60-mph winds are possible.
Los Angeles Times staff writer Lauren Raab contributed to this report.