This is an archived article and the information in the article may be outdated. Please look at the time stamp on the story to see when it was last updated.
JANUARY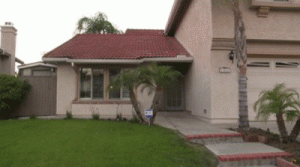 'Paranormal Activity' house up for sale
The Rancho Penasquitos home used in the horror film "Paranormal Activity" was listed on the market at $749,000.
Pro hockey team to call San Diego home
The American Hockey League announced the formation of a five-team Pacific Division, cueing the return of professional hockey to San Diego following a nine-season absence.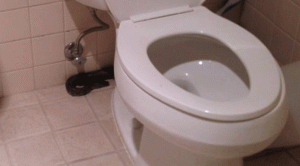 Woman finds giant snake in toilet
Two women were shocked when they found a 5-foot Colombian Rainbow Constrictor coming out of the toilet in their downtown office.
FEBRUARY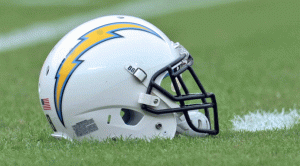 Chargers, Raiders propose shared NFL stadium in LA County
Carson2gether, a group of business and labor leaders, announced it would seek voter approval for construction of a 72,000-seat professional football stadium in a 168-acre site in Carson that, if approved, would potentially house both the San Diego Chargers and the Oakland Raiders.
Owner of iconic Ocean Beach burger joint dies
Mike Hardin, owner of the burger restaurant Hodad's, died of a heart attack. His body was found in a hotel room in Fresno.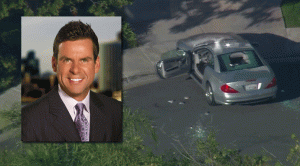 CBS8 sports anchor shot outside Scripps Ranch home
The sports anchor was rushed to a hospital after getting shot outside his home in Scripps Ranch.
MARCH
Driver passes out on freeway
A driver passed out on a San Diego freeway and an officer had to smash a window to get inside and stop the vehicle, which was slowly rolling down the roadway.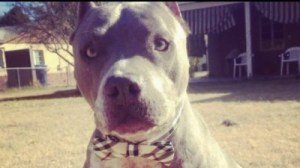 Police shooting of service dog sparks protests
Social media outrage called for accountability following a San Diego police officer's decision to fatally shoot a pit bull during a predawn domestic violence call in Pacific Beach.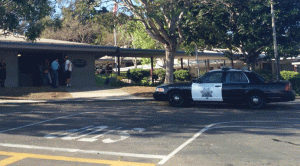 Girl's screams saved her life in abduction attempt, deputies say
A girl's screams during an abduction attempt in front of a school in Solana Beach saved her life, sheriff's deputies said.
APRIL
San Diego donut shop named among 'best' in US
A downtown doughnut shop made two lists of the best in the country published by a pair of food and travel websites.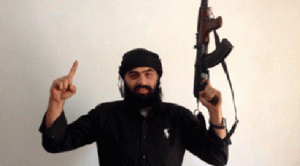 Syrian American arrested in Rancho Bernardo on terrorism charge
A San Diego man charged with making false statements to federal agents about his recent activities and associations in Syria appeared before a U.S. magistrate judge and was ordered held without bail.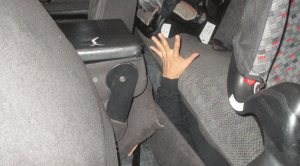 Border officers find man wedged under truck seat
Officers helped free a man they found hidden in a compartment specially built under the backseat of a pickup truck.

MAY
Chargers, Raiders secure land deal in Carson
One day after San Diego officials unveiled a financial plan aimed at keeping the Chargers in town, the Chargers and Oakland Raiders completed a land transaction in Carson.

Teen who set Cocos Fire sentenced to community service
A teenage girl convicted of multiple arson charges for starting a fire a year ago that sparked the larger Cocos wildfire, which blackened nearly 2,000 acres and destroyed more than 35 homes and other structures, was sentenced to 400 hours of community service.

Malnourished husky found with shattered legs, bound snout
Military officials were asked to help investigate the owner of a 5-month-old husky whose hind legs were shattered and mouth was bound shut with rubber bands.
JUNE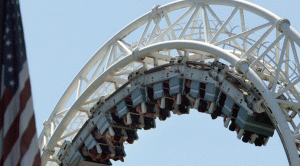 Girl dies after losing consciousness on Magic Mountain coaster
A 10-year-old girl who was found unconscious but breathing after riding a roller coaster at Magic Mountain died.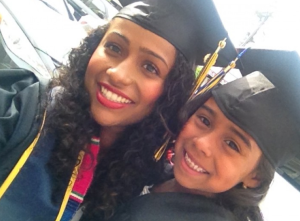 San Ysidro teen mom heads to Harvard
A San Ysidro woman who had the world stacked against her is getting ready to go to Harvard University to get her master's degree.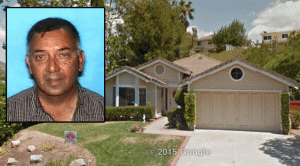 Man jailed on suspicion of lewd acts with kids at day care center
A  64-year-old San Diego man was arrested on suspicion of possessing child pornography and victimizing children at his wife's day care center.
JULY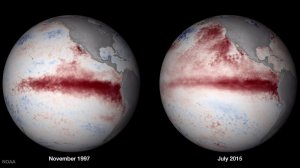 Images indicate strong El Nino taking shape
Scientists say new images of a band of warm water in the Pacific Ocean provide strong evidence that an El Nino current is forming that could bring heavy rain to California this winter.
Record rain floods Ramona, closing streets, damaging homes
A heavy summer downpour broke July rainfall records, flooded streets and damaged homes in Ramona.
South Bay park booby-trapped with razor blades, cops say
Police closed a park in Chula Vista after they found razor blades that appear to have been intentionally scattered around the playground.
FOX reporter breaks out epic Nae Nae moves during commercial break
FOX 5's Walter Morris dance moves during a commercial break went viral.
AUGUST
Mayor offers $350M of public funding for new Chargers stadium
The city and county of San Diego announced they would pay $350 million combined under a financing proposal for a new football stadium in Mission Valley, or about one-third of the total construction cost.
Little League coach loses job while at World Series
As the young baseball players from Sweetwater Valley All-Stars prepared for the Little League World Series in Williamsport, Pennsylvania, one of their volunteer coaches was fired from his job.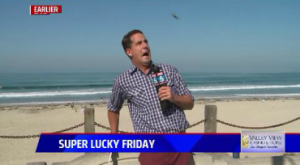 Large bug scares weather reporter on live TV
FOX 5's Brad Wills freaked out when a bug flew near him in a live report from Pacific Beach that went viral.
SEPTEMBER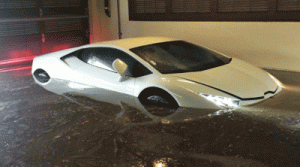 Downpour floods underground parking lot with Lamborghini
Flooding across the county flooded underground parking garages like this one in Ocean Beach, where a Lamborgini was submerged.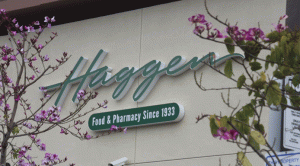 Haggen to close all California stores
Haggen Inc. announced it was leaving California after a dramatic expansion gone wrong forced the grocery chain to file for bankruptcy protection.
Instructor, student die in small plane crash
A flight instructor and his student died as a result of a light plane crashing int ao driveway in a residential neighborhood just west of Gillespie Field.
OCTOBER
President Obama crashes San Diego wedding
A bride and groom knew it was a special day, but then they discovered President Barack Obama was steps away from their ceremony.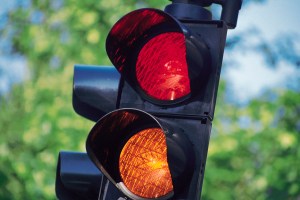 Driver shot in face while stopped at red light
The windows of the man's car were blown out and the driver side door was riddled with bullet holes.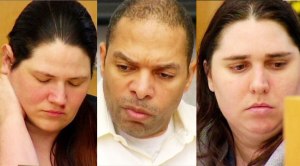 All defendants guilty in sexual torture, murder of Marine wife
A man and two women involved in a sadomasochistic sex ring were ruled guilty of torturing and murdering a 22-year-old military wife at a home in Fallbrook.
NOVEMBER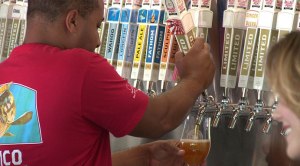 Beer giant to buy Ballast Point Brewing for $1B
One of San Diego's most successful craft brewers announced it would be acquired for $1 billion by Constellation Brands, a large alcoholic beverage conglomerate.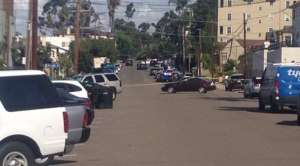 SWAT team surrounds Bankers Hill apartment after gunfire
SWAT teams were sent to an apartment complex in the Bankers Hill neighborhood, where a domestic violence suspect armed with a high-power rifle was believed to be holed up.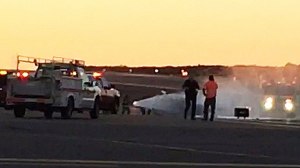 2 die after helicopter spins out of control in Carlsbad
Two people were killed after a helicopter spun out of control and crashed at McClellan–Palomar Airport. 

DECEMBER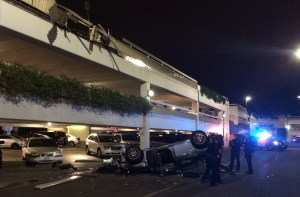 2 injured when car plunges from top of Fashion Valley parking garage
Two women were injured when the vehicle they were in drove off the third floor of a parking structure at Fashion Valley Mall.
Man distracted by electronic device fall to death at Sunset Cliffs
A man who went to Sunset Cliffs on Christmas to watch the sunset and became distracted while using an electronic device fell over the cliff edge plummeting 60 feet to his death.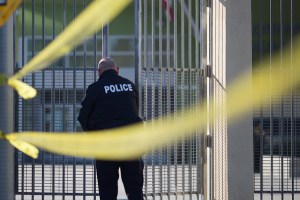 Credible terrorist threat closes all LA Unified schools
The threat emailed to Los Angeles Unified School District that caused authorities to close all schools also mentioned San Diego.