This is an archived article and the information in the article may be outdated. Please look at the time stamp on the story to see when it was last updated.
SAN DIEGO – The late San Diego Padres legend Tony Gwynn was warned about the alleged risks of using smokeless tobacco, according to the US Smokeless Tobacco Company's claim.
USA Today reported Wednesday, US Smokeless Tobacco Company's claim filed last week comes after the Gwynn family filed a wrongful death lawsuit in 2016 accusing the company of hiding the dangers of smokeless tobacco.  They filed a response stating Gwynn was warned about the alleged "commonly known" risks of chewing tobacco, but still used the product.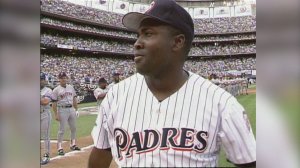 The family's lawsuit — which seeks unspecified damages against Altria Group Inc., formerly Philip Morris — alleges the tobacco industry induced Gwynn to begin using smokeless tobacco in the late 1970s when he was a star at San Diego State University.
According to the lawsuit, Gwynn went through as many as two cans of smokeless tobacco per day over the course of 31 years, which is equivalent to smoking four or five packs of cigarettes daily.  He admitted his addiction when he tried to stop.
He had multiple surgeries on his neck to remove an abscess and a tumor. He died in 2014 after battling cancer of the salivary gland. Gwynn was 54.
FOX 5 Sports Director Troy Hirsch reached out to Tony Gwynn Jr. about the company's claim. He did not have a comment and the family's attorney was not available for comment.