This is an archived article and the information in the article may be outdated. Please look at the time stamp on the story to see when it was last updated.
SAN DIEGO – Tony Gwynn has returned for another season as the head coach of San Diego State's Aztecs baseball team, despite recent cancer treatments.
In 2012, Gwynn underwent surgery to remove a tumor from his right cheek in 2012. It was successful, but this past fall, the battle began again with more treatments and he had to miss most of his team's fall practices.
His team didn't know what to expect either, pondering a 2014 season full of unknowns.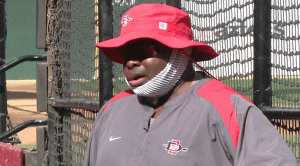 "He said throughout the fall, 'guys, just stick with me. I'm working on my health. I'm going to try and be there as much as I can,'" said infielder Tim Zier. "We just stuck with him, and always gave him a few phone calls just to pick him up."
"Earlier in the year, I got here when I could get here," said Gywnn. "The last three weeks or so I've been lucky. I've been able to be here every day. My strength is good and seems like they're going in the right direction, but with cancer you never know."
Coach Gwynn is now back coaching practice full time. His efforts are not lost with Aztec players like junior outfielder Greg Allen.
"I think the way Coach Gwynn has carried himself – on and off the field – it's special," Allen said. "He tells us he loves each and every one of us. He wants nothing but the best for us.  To see him out there, giving his all for us, even in maybe not the best physical conditions for himself, I think we can do nothing more but give our all on the field and do everything we can to make him proud."
Nothing would make Gwynn prouder than to see his team defend its Mountain West Conference title and earn a trip to the NCAA tournament.
"When Coach Gwynn wasn't here last fall, we wanted to win for him," said Zier. "It was going to be a season for Coach Gwynn. Now, that he's here he can share those moments with us."
Before every practice, every game, Gwynn addresses his team.  Hundreds of speeches given Gwynn to his team in the dugout have focused on confidence and execution.  His message on Thursday ended with a note of strength.
"I know we've been through some negative stuff, but I'm going to put that aside this week," Gwynn told his players.
Gwynn makes sure to remind his team that it's always about finding the right way to view a situation.
"The one thing I tell them, it's like baseball. If you have the right attitude about it, usually good things happen. Sometimes it's hard standing here with this bandage on, and all this stuff, but underneath I'm doing good. I'm doing really good," he said.