This is an archived article and the information in the article may be outdated. Please look at the time stamp on the story to see when it was last updated.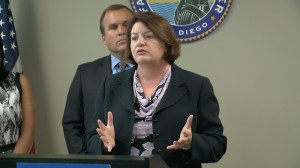 SAN DIEGO — Assembly Majority Leader Toni Atkins was in her hometown of San Diego Friday announcing newly proposed legislation to offer victims confidentiality at domestic violence assistance centers.
"So as they share information, it's not going to put them in jeopardy in any other way," said Atkins from inside the SD Family Justice Center.  "It is really up to them to give permission for that information to be used."
Counselors say victims are often hesitant to come forward because they are undocumented, there is criminal activity in the home or there is substance abuse.  They often worry about losing their children.  With the proposed legislation referred to as AB 1623, information disclosed while getting help would be kept private.
"These are recommendations that came out of a huge study and dialogue with the providers that would help people step forward and get the help they need," said Atkins.
Atkins is also the newly elected next Speaker of the California Assembly.  She is the first open lesbian to hold that title.
"Traditionally we've had speakers from Northern California and Los Angeles so it is significant to have someone from San Diego," said Atkins. "I think we have a way we can help the rest of the state in terms of what we have here- sunshine, the military, cultural institutions."
She said she realizes she has a lot of work ahead.
"We have water issues. We have the continued implementation of the Affordable Care Act. We want to make sure that we continue to stabilize the financial situation in the state," she said.
She also intends to focus on education.
"We (need to) continue to commit our resources to education and to refunding what has been taken away from education," she said. "It's a huge issue for California from north to south, so we've got a full plate."
AB 1623 is expected to be scheduled for a legislative hearing in and Assembly committee next month.