This is an archived article and the information in the article may be outdated. Please look at the time stamp on the story to see when it was last updated.
SAN DIEGO — Authorities Tuesday said they are considering whether to file criminal charges in the apparent drowning deaths of a 16-month-old girl and her 2-year- old brother at an East County home where they and their mother had been staying with a family friend.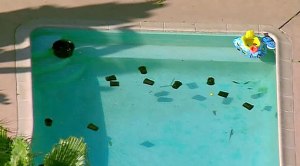 The mother found Harley and Jason Bradford floating face-down in a backyard swimming pool in the 10000 block of Sunset Avenue in La Mesa shortly after 9:30 a.m. Monday, according to sheriff's officials.
She and a male companion drove the unconscious toddlers to a nearby fire station. Medics tried in vain to revive them there before taking them to Sharp Grossmont Hospital, where Harley was pronounced dead. Her brother was transferred to Rady Children's Hospital, where he died shortly before 11:30 p.m., Lt. Glenn Giannantonio said.
"Sheriff's investigators will be meeting with the District Attorney's Office to determine if any criminal charges will be filed relating to the deaths of the children," the lieutenant said.
The mother, whose identity has not been released, first told investigators the drownings had occurred at a mobile-home park on Jamacha Boulevard in Spring Valley, but later admitted they happened at the La Mesa home.
"She said she initially gave the wrong location because she didn't want her friend who lives at the residence to get in trouble for not having a fence around the pool," Giannantonio said.
During a search of the house — where the mother and her children had been staying for several days — deputies came across a marijuana-growing setup in a basement area and called in Narcotics Task Force personnel to investigate, he said.
About 6 p.m., the drug agents arrested a resident of the home, Larry Dangelo, 44. He was booked into San Diego Central Jail on suspicion of cultivation and possession of marijuana for sale, damaging a power line and other charges.
To learn more about Harley and Jason, click here.
Family members spoke exclusively to Fox 5 stating the children were in the middle of a custody battle and were supposed to be taken from their mother a day after their death.