This is an archived article and the information in the article may be outdated. Please look at the time stamp on the story to see when it was last updated.
CHULA VISTA, Calif. — An 18-month-old boy who was inside a car stolen from a Chula Vista hotel was found safe in National City early Thursday after the suspected car thief noticed him sleeping in his car seat and called police.
The toddler's mother called for help shortly after 11:30 p.m. Wednesday and told dispatchers a man stole her friend's 2009 Nissan Maxima with the boy still inside from the parking lot of the Days Inn at 699 E St., according to a Chula Vista police statement. The car was taken as the boy's mother and her friend were headed inside to check in.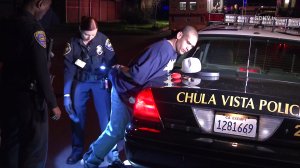 But 25-year-old Steve Luna, who later admitted to taking the car, called police around 12:10 a.m. Thursday after noticing there was a baby sleeping in a car seat in the back, police said in the statement.
Officers sent to the 500 block of K Avenue found the boy unharmed and still strapped into his safety seat. Police said he had since been returned to his mother.
Luna was arrested and booked into jail on suspicion of auto theft and being under the influence of a controlled substance, according to police.