This is an archived article and the information in the article may be outdated. Please look at the time stamp on the story to see when it was last updated.
SAN DIEGO – A new era of San Diego politics will begin Friday at 5 p.m. when Todd Gloria transitions from City Council President to interim mayor.
Bob Filner will officially leave the office as San Diego's mayor Friday and with him goes much unfinished business and leaving many wondering what will happen to Filner's promises.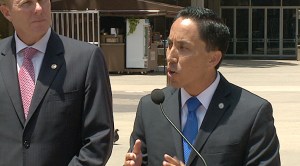 Gloria said he and Filner share very similar agendas, including the library, convention center and offering solutions for the homeless.
"My career has actually been centered around homelessness," said Gloria.
One of Filner's promises was to keep the Alpha Project shelter at 16th Street and Newton Avenue in East Village open year round.
"We just got a notice that they're going to close us in April," said Bob McElroy, President and CEO of Alpha Project.
"I have cancer.  I can't be on the street and getting chemo," said Pamela Cooks, who is currently homeless and uses the Alpha Project services.  "I don't know what I'll do if they shut this place down."
Similar concerns are surfacing in Mission Beach.
"We voted for Bob Filner because of the issues," Walden Keyes, owner of Mission Beach Collective. "He was pro-choice. If someone else comes in, how is that going to factor in?"
From the homeless to medical marijuana, Filner had a long list of promises he made to San Diego.
"There were a lot of promises made that were not promises that could be kept, regardless of whether or not Bob Filner was mayor," said Gloria.
"Big and small things that need to get done and what people need to know is that this is not a time for the city to sit in neutral," said Gloria. "This is the time for the city that was falling backwards to start going forward."
Before Gloria can get moving on issues, he has to get his staff in place.  On Thursday, he announced the new staffing for his new administration, which includes taking back Irene McCormack-Jackson as Director of Communication.
McCormack-Jackson was the first of nearly 20 women to come forward with accusations of sexual harassment against Mayor Bob Filner.