This is an archived article and the information in the article may be outdated. Please look at the time stamp on the story to see when it was last updated.
On a recent Friday night along Avenida Revolución, dense crowds of club kids, college students and stylishly dressed maquiladora workers wandered past boisterous new bars, nouvelle restaurants, mod clothing shops and funky art galleries.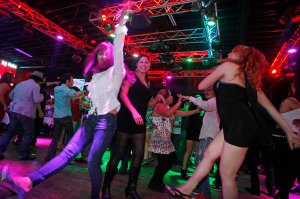 Nearby on Callejon de la Sexta (also known as Sixth Street), which not long ago was a wasteland of empty, sinister-looking storefronts, leather- and denim-swathed thirtysomethings spilled onto the sidewalk in front of La Mezcalera, a bar decked out like a cross between a Oaxacan bodega and a Chinese bordello that serves dozens of varieties of mescal.
A half-dozen years ago this stretch of the city was in a commercial death spiral, as a wave of brutal drug-related violence swept across Mexico, engulfing border cities such as Tijuana and Ciudad Juárez. But starting around 2009, young tijuanenses began to reclaim large swathes of their hometown. Taking advantage of rock-bottom rental rates, young entrepreneurs and artists are converting abandoned buildings into thriving new nightspots and trendy retail emporiums. And the people are coming back.
At the Dandy del Sur bar on La Sexta, Ramon Amezcua sips a local craft beer, Border Psycho, in a low-ceilinged room with an aural-olfactory mixtape of cigarette fumes, street-vendor tacos and the jukebox drone of the Smiths' "How Soon Is Now?"
"In 2007 we were afraid to go in the night to the bars, to live the night-life style of Tijuana," said Amezcua, a.k.a. Bostich of the pioneering norteño-electronic fusion group Nortec Collective. "But here, starting with Sixth Avenue, the people started to take back the streets."
Ever since World War II stopped the flow of vice-seekers that began with Prohibition, Tijuana night life has waxed and waned. The Great Depression slowed tourism to a crawl. Seven decades later, tightened border controls following the Sept. 11 terrorist attacks did the same. Yet after each boom-and-bust cycle the city has managed to reboot.
What's different this time around is that today's cultural entrepreneurs are reclaiming districts like the downtown Zona Centro and Colonia Cacho not for tourists, but for themselves.
"Now when I go to Avenida Revolución, and I don't see a [foreigner], it's shocking to me. Now it's packed with Mexicans," said Luis Ituarte, director of La Casa del Túnel, an art gallery and performance space in a former private home that once contained a drug smuggler's tunnel. "It's exciting, the sense that Tijuana is really retaking the city somehow."
Tijuana's latest Lazarus act began about two years ago, following the January 2010 arrest of reputed crime boss Teodoro García Simental, and the gradual dismantling of the Arellano Félix cartel, which police say has been pushed out by the rival Sinaloa cartel.
The violence hasn't entirely ceased. Earlier this year, in a matter of hours, a string of homicides swept the city, which recorded 42 murders in January. But the homicide rate has fallen dramatically since 2010, when murders spiked at 844 (officially).