This is an archived article and the information in the article may be outdated. Please look at the time stamp on the story to see when it was last updated.
SAN DIEGO — A Tierrasanta neighborhood was hit by flying rocks and debris after an explosion at a nearby quarry Thursday afternoon.
Bianca Bushnell was home when the blast happened and she told Fox 5 that it felt like a bomb hit her house.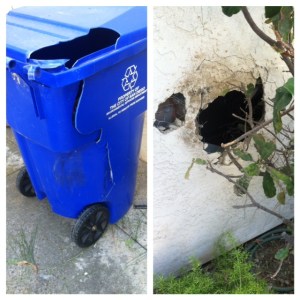 "It was really, really crazy. All of a sudden I felt the house tremble —  it was a big sound," said Bushnell.
With a gaping hole in her garage, she thought her water heater may have blown up. When she realized that wasn't the case she called police. Minutes later, she said a man came up from the nearby quarry.
"He said the blast was so big, some came at him and he ducked. That's why he came up here — to check spots where there could've been damage," said Bushnell.
Another woman hiking nearby said she heard the blast and saw smoke, then rock and dirt clods went flying past her head.
"It was like bullets, I braced myself for impact. If I was hit would not have survived it," she said. "I'm sort of afraid now to walk in my neighborhood because I'm not sure when it's going to come."
The quarry business is listed as Jones Services, providing blasting consulting.
Fox 5 called the owner of Jones Services to get information about what happened, but he refused to answer any questions.