This is an archived article and the information in the article may be outdated. Please look at the time stamp on the story to see when it was last updated.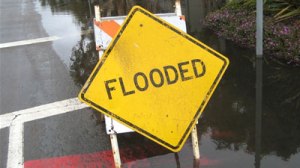 SAN DIEGO  – Severe thunderstorms over the central and east-central portions of San Diego County led to roadway flooding and power outages and prompted meteorologists to issue a slew of warnings and other advisories Saturday.
The National Weather Service issued a severe thunderstorm warning for east-central San Diego County, including Shelter Valley, Ocotillo Wells and Agua Caliente Springs, set to remain in effect through 4:30 p.m.
Doppler radar detected a cluster of thunderstorms capable of producing winds of more than 60 mph between Shelter Valley and Ocotillo Wells.
"This is a dangerous storm," the NWS warning stated. "If you are in its path, prepare immediately for damaging winds, destructive hail and deadly cloud to ground lightning."
A weather-related power outage hit about 2,000 San Diego Gas & Electric customers in Borrego Springs, Shelter Valley and Canebrake Friday afternoon.
The lightly- populated area was served by "micro-generators" in Borrego Springs while repairs were made to the connection to the SDG&E grid, and an about 10-15 minute outage was expected as the outside connection was re-established, a company spokeswoman said.
Power was restored in the area by late afternoon, according to the utility's website.
Also this afternoon, a severe thunderstorm capable of producing quarter-sized hail and winds of more than 60 mph was picked up by radar near Santa Ysabel, about 12 miles east of Ramona, according to weather service officials, who issued a warning for the central part of the county including Banner and Julian.
Flash flooding from a cluster of thunderstorms between Borrego Springs and Canebrake prompted a flash flood warning in effect until 6:45 p.m. for the east-central parts of the county including Ocotillo Wells, Shelter Valley, Agua Caliente Springs and Canebrake.
Thunderstorms over Descanso and Santa Ysabel and others that may develop may lead to ponding on roadways and minor flooding, according to the weather service.
An urban and small stream flood advisory was in effect through 4:30 p.m. for north-central San Diego County including Julian, Pine Valley, Boulevard, Campo, Cuyamaca Park, Descanso, Live Oak Springs, Morena Village, Mount Laguna, Potrero, Santa Ysabel, Tecate and Tierra Del Sol.
Roadway flooding was reported shortly before 2 p.m. along state Route 94 near the Shockey Truck Trail, east of Dulzura, and in Borrego Springs about 3 p.m., according to the California Highway Patrol.
Heavy rain and hail were falling in Pine Valley near state Route 79 around 1 p.m., the CHP said.
A similar urban and small stream flood advisory is in effect through 5 p.m. for north-central San Diego County, although heavy rain had moved out of the area.
A flash flood watch issued forEast County mountains and deserts is set to extend until 8 p.m.
Monsoon moisture was expected to result in scattered showers and thunderstorms, the NWS said "Conditions remain favorable for strong, slow moving thunderstorms to produce flash flooding and excessive runoff, especially over and downstream from recent wildfires," according to the NWS.
Potentially damaging wind and hail could also be possible, meteorologists said.
Those in the area were advised to move to higher ground.
"Residents living along streams and creeks should take immediate precautions to protect life and property," the warning stated.
"Do not attempt to cross swiftly flowing waters of unknown depth by foot or by automobile."