This is an archived article and the information in the article may be outdated. Please look at the time stamp on the story to see when it was last updated.
ALPINE, Calif. -- Thunderstorms soaked the eastern regions of San Diego County Tuesday afternoon, bringing more than an inch of rain to some areas.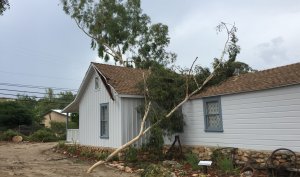 In Alpine, winds reached up to 50 to 60 mph and residents reported heavy hail. Several trees fell near Pitts Valley Road, including a giant oak tree that had split in half. One tree fell on top of a family's Mercedes-Benz.
Some residents told FOX 5 the weather was unlike anything they had ever seen.
"Wind was blowing, like spinning and I've never seen it do that before," Cynthia Weintraub said. "The rain was the biggest drops I've ever seen, huge drops...And everything, patio furniture was flying past the windows. I got really scared. Everybody got scared. Our roof started leaking, which it's never done. There was so much rain."
City crews spent hours cleaning mud and debris from in front of storefronts on Alpine Boulevard, cutting loose tree branches and clearing driveways.
Shortly after 1 p.m., the National Weather Service issued a flash flood warning for the vicinity around Alpine until 4:30 p.m.
The first heavy rains hit the area around 1:30 p.m. There was a small break before a second round soaked the region around 2:30 p.m.
Hundreds of residents lost power during the storm. SDG&E estimated the service to be restored by 1 a.m. Wednesday, according to its outage map.
Due to the weather, the Alpine Sheriff's Office postponed its National Night Out that was scheduled to start at 4 p.m.
Due to bad weather, @SDSOAlpine #NationalNightOut2017 event has been postponed. We will announce a new date soon. Thanks for understanding pic.twitter.com/U9FYD7hOiR

— San Diego Sheriff (@SDSheriff) August 1, 2017
A flash flood watch was issued for San Diego County mountains and deserts from Wednesday morning to Wednesday evening.