This is an archived article and the information in the article may be outdated. Please look at the time stamp on the story to see when it was last updated.
SAN DIEGO – Two college athletes from North County traveling back to San Diego from Oregon for Thanksgiving were injured when someone threw a boulder through their windshield.
Molly Grabill, 20, of Poway was driving a Subaru Legacy station wagon south on Interstate 5 near Rice Hill in Douglas County, Oregon with her 19-year-old passenger Chris Brewer of Vista.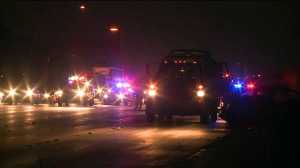 "As they started to go underneath the overpass, a rock that was described as larger than a baseball came down from the overpass, smashed through the driver's side window and then hit Molly in the face," said Lt. Greg Hastings of the Oregon State police.
"Chris Brewer grabbed the steering wheel and tried to control the vehicle.  He was unable to do so.  The car eventually rolled over," said Hastings.
Grabill and Brewer were rushed to the hospital. Grabill suffered a broken jaw plus cuts to her face that required stitches.
Brewer was treated for minor scrapes and bruises and released Tuesday.
"It was just a shock when it happened, like something you see in a movie. It's still very traumatic and hard to think about," Brewer said in a statement.