This is an archived article and the information in the article may be outdated. Please look at the time stamp on the story to see when it was last updated.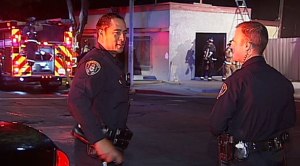 SAN DIEGO — Arson investigators are looking into a late-night fire that damaged a thrift store in the Mount Hope neighborhood.
The small family-owned store on Market Street a couple of blocks west of Interstate 805  caught fire around 12:30 a.m. Monday, firefighters said.
A witness said the family who owns the shop lives nearby. Neighbors woke them and told them that their store was burning.
Crews had the blaze knocked down in a few minutes, but much of the merchandise as ruined.  No one was hurt.