This is an archived article and the information in the article may be outdated. Please look at the time stamp on the story to see when it was last updated.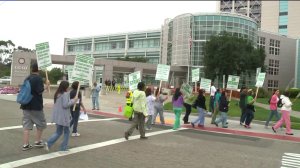 SAN DIEGO — Thousands of health care workers at UC San Diego Medical Center and University of California hospitals across the state began a two-day strike Tuesday, walking picket lines as they push for a new contract.
UC health officials prepared for the walkout by canceling non-essential surgical procedures at all of its centers and juggling staff to ensure patients are not endangered by the work stoppage, which began around 6 a.m.
The American Federation of State, County and Municipal Employees Local 3299 earlier this month announced that its roughly 13,000 patient care technical workers would participate in the strike. Thousands of health care workers represented by University Professional and Technical Employees, or UPTE, a unit of Communication Workers of America, said they would honor the
strike and would not cross the picket lines today. Other AFSCME-represented hospital workers also vowed to honor the picket line in a sympathy strike.
Patient care technical workers include technicians for ultrasounds, X-rays, MRIs, mammograms and other tests, radiation therapists for cancer patients, pharmacy technicians and respiratory therapists, according to UC.
UC officials went to court in Sacramento Monday in hopes of halting the strike on the basis of patient safety, and a judge issued a restraining order preventing about 100 workers across the UC system from taking part in the walkout to ensure that vital services would not be disrupted.
Dwaine Duckett, vice president for human resources at UC, said the injunction was "more limited than what we were seeking," and said it was wrote for the union "to put patients in the middle of a labor dispute and jeopardize essential services to them as a negotiating tactic."
Duckett noted that hospitals across the UC system were postponing surgeries due to the walkout, with about 180 delayed just at UC San Diego Medical Center.
AFSCME officials, however, have insisted their strike plan will ensure patients continue to receive essential care. Kathryn Lybarger, president of AFSCME Local 3299, said the judge's ruling in Sacramento "affirms our members' right to advocate for their patients and reassures the public that there will be no imminent health and safety risks associated with this week's strike."
"The court has honored our members' commitment to protect patient safety, and to stand up to UC's unsafe staffing practices and reckless cost-cutting, which are too often putting our patients at risk," she said.
UC officials insisted that they have offered a fair wage and benefit proposal, saying the sticking points in negotiations are pension contributions, which would increase for employees from 5 percent to 6.5 percent in the most recent talks; a new tier of pension benefits for workers hired on or after July 1; and revised eligibility rules for retiree health benefits.
According to UC, the latest four-year contract offer includes wage increases of up to 3.5 percent per year over the life of the deal. Union officials, however, have accused UC of failing to negotiate in good faith and limiting worker salaries while earning millions in profits.
Dr. John Stobo, UC's senior vice president for Health Sciences and Services, estimated that the strike will cost $20 million across the five medical centers — UCLA, UC Irvine, UC San Diego, UC Davis and UC San Francisco.