This is an archived article and the information in the article may be outdated. Please look at the time stamp on the story to see when it was last updated.
SAN DIEGO — About 3,000 people ran, jogged and walked in Balboa Park in cops-and-robbers themed event Saturday night to help make San Diego neighborhoods a little safer.
The 27th annual Light the Night Against Crime 5K raised money for San Diego County Crime Stoppers.
"Law enforcement's always a good thing to support — they protect us, we support them," said one runner.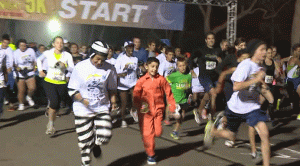 This year's race had a new twist with a cops-and-robbers theme.  The first group of runners were robbers with the next group, as cops, taking off after them.
The race benefits Crime Stoppers which hands out rewards to people who provide tips that lead to felony arrests.
"This is one way we actually raise funds to pay for the rewards that we pay out," said Don Braun with Crime Stoppers.
Since starting in 1984, San Diego County Crime Stoppers has helped solve around 4,600 cases while helping catch 3,300 suspects.
"I can't thank them enough for what they do and, more importantly, they're such contributors to making San Diego probably the safest urban county in the United States," said San Diego County Sheriff Bill Gore.