This is an archived article and the information in the article may be outdated. Please look at the time stamp on the story to see when it was last updated.
SAN DIEGO — About 2,000 people showed up Tuesday for a mass to pray for the recovery of a mother and three children injured when a suspected drunken driver crashed head-on into their minivan on a San Diego freeway.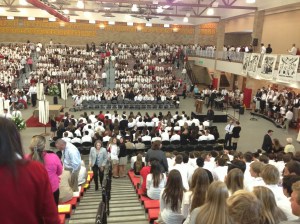 The service was held in the gymnasium at Cathedral Catholic High School for the wife and three children of Will Cunningham, the school's head basketball coach, said school spokeswoman Kimberly King. About 1,750 students filed into the gym for the mass, which began at 11 a.m. Another 250 parents, faculty and staff members also attended.
"It was really hard, we were all holding each other," said Sarah Whelan, Senior and captain of the dance team.  "We love Taylor so much and we just want her back."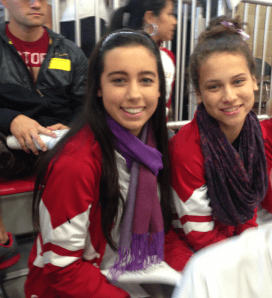 Taylor Cunningham is in the hospital fighting for her life.  On St. Patrick's day, Taylor, her mother and two young sisters were involved in a head-on collision on Highway 52 near Santos Road.  Taylor's mom Alisa Cunningham was struck by a 30 year-old Matthew Leonardo.  Leonardo, who was traveling in the wrong direction on the freeway was suspected of drunk driving.
"All you can do is just what we've been doing and that's praying," said Xavier Williams, Senior.
Taylor was a star on the school's dance team and well loved.
"Our team is more like a family she's one of our sisters," said Whelan.
"She's got more talent in her little pinky than I do my whole entire body," said Coach Sara Orpita.
Now all that talent is on hold.  Taylor is in a coma, her family said Tuesday morning she responded to pin pricks on her fingers, but not her feet.
"We're trying to stay as positive as possible for Taylor, but it's really hard," said Whelan.
Alisa Cunningham is also in the hospital.  School officials said she is in shock, but did recognize her husband.  Her two younger daughters 12-year old Logan and 10 year old Jayden are at Rady Children'sHospital in fair condition.
"They're resting right now that's most important thing," said Ron Marquez, Sports Information Director.  Marquez said for the most part, Coach Cunningham is holding up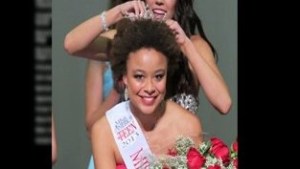 "As a father, he's still processing everything he's in the mode of taking care of everything that he can," said Marquez.
At school, students are leaning on each other for support and said from this experience, there is a clear message to be heard.
"If you take a drink of anything even a little sip of alcohol you definitely should not be behind the wheel a car," said Michael Rosenberg, Senior.
"This should be completely obvious.  Please don't do that," said Williams.