This is an archived article and the information in the article may be outdated. Please look at the time stamp on the story to see when it was last updated.
SAN DIEGO – Two men who stole a limited-edition Ford worth about $250,000 from a Rancho Santa Fe home and two Porsches from other residences were each sentenced Monday.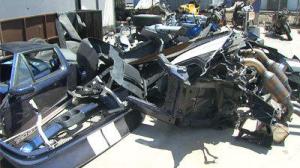 George William Moore, 49, and Gabriel Castano, 30, were each sentenced to five years in state prison after pleading guilty last month to burglary of an inhabited dwelling, owning or operating a chop shop and receiving stolen property.
According to Deputy District Attorney John Philpott, the 2005 Ford GT disappeared during a three-week period last June and July.
Philpott said chopped-up parts of the Ford GT, as well as one of the intact Porsches, were found in the back area of a business in North County. About two-and-a-half weeks later, almost all of the rest of the Ford GT was found at a storage facility about a block away from the other business.
Information was developed that led investigators to a second stolen Porsche, Philpott said.
Philpott said the theft of such a unique and expensive car as the Ford GT — only 4,038 were manufactured in 2005 and 2006 — is rare.