This is an archived article and the information in the article may be outdated. Please look at the time stamp on the story to see when it was last updated.
VISTA, Calif. — Authorities reached out to the public Thursday for help in identifying a band of thieves who stole roughly $35,000 worth of antique coins and silver last month during a break-in at a Vista currency and precious metals business.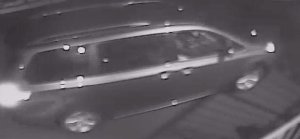 The bandits forced their way into California Numismatic Funding in the 700 block of East Vista Way through a back door shortly before 10 p.m. April 21, according to sheriff's officials.
After using crowbars to bypass a security gate, the group ransacked the business, then fled in a minivan and a four-door sedan.
Surveillance cameras captured images of the burglars and their getaway vehicles, a mid-size four-door sedan and a minivan.
Investigators believe the same criminal crew may have committed similar break-ins at other Southern California businesses that deal in antique coins.
Anyone with information about the case is asked to call San Diego County Crime Stoppers at 888-580-8477 or contact the agency online at sdcrimestoppers.org. Tipsters may remain anonymous and could be eligible for a reward of up to $1,000.