This is an archived article and the information in the article may be outdated. Please look at the time stamp on the story to see when it was last updated.
NATIONAL CITY, Calif. — Law enforcement officers asked the public Tuesday for help in recovering three big brass plaques stolen from a South Bay war memorial.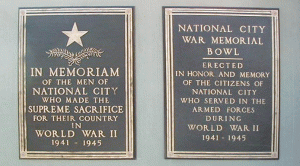 The plates honoring local members of the military who died in World War II and the Korean and Vietnam wars were reported missing from Kimball Park in the 1200 block of D Avenue in National City on Monday night, according to police.
The tablets — two measuring 3-by-4 feet and the other 4-by-5 feet — had been on display in the location for more than 60 years, National City police Sgt. Alejandro Hernandez said.  Investigators said the thieves most likely used crowbars and picks to pry the plaques from the concrete walls.
Sgt. Hernandez said the brass is worth money and is the possible motive for the theft. The estimated weight of each plaque is around 300 pounds and criminals have potential to get around $510 for the brass.
The theft of the war memorial was a jarring loss for the community and a vicious insult to those who paid the ultimate sacrifice.
"For someone to disrespect not only veterans in general, but the veterans of National City who lost their lives defending this country – it kind off tore my gut," said Rick  Devries, VFW 255 SOT executive board member.
Anyone with more information about the thefts was asked to call San Diego County Crime Stoppers at 888-580-8477. Tipsters may remain anonymous and could be eligible for a reward of up to $1,000.
"It's unconscionable that war memorial has been there since the 1940s," said Rick Devries VFW board member. "They just tore those names right off the wall… If someone recycles that brass they need to go to jail."