This is an archived article and the information in the article may be outdated. Please look at the time stamp on the story to see when it was last updated.
SANTEE, Calif. -- Investigators are asking for the public's help in identifying and locating a man suspected of identity theft.
On August 21 and 22, the man used a Santee resident's credit card number to make about $900 worth of unauthorized purchases at three businesses: Shell Gas Station at 5302 Lake Murray Boulevard in La Mesa, Sarku Japan Restaurant at Fashion Valley Mall and Travel Mart at 1201 Hotel Circle South in San Diego, according to investigators with the Santee Sheriff's Station.

The victim says she never lost her credit card and doesn't know how her personal information was stolen.
The suspect is described as a white man between 20 and 30 years old with short brown hair and unshaven. He was last seen wearing dark sunglasses, a dark "Lucky Brand" T-shirt, plaid shorts and dark skater-style shoes.
The clerk at Travel Mart says the suspect presented a pink out-of-state driver license and was accompanied by a black man with short hair and a pink collared shirt. The man was also seen with the suspect at the Sarku Japan restaurant.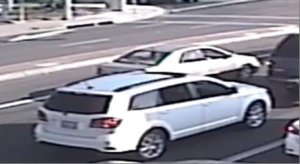 Surveillance video from the gas station shows the suspect getting into the back seat of an unknown make/model white, four-door SUV. There may have been two other people inside the car.
Anyone with information on the identity or location of the suspect and his companion is asked to call Crime Stoppers anonymous tipline at 888-580-8477. Crime Stoppers is offering up to a $1,000 reward to anyone with information that leads to an arrest in the case.