This is an archived article and the information in the article may be outdated. Please look at the time stamp on the story to see when it was last updated.
CHULA VISTA, Calif. — In the blink of an eye Tuesday, one brazen thief took off with $20,000 worth of antique jewelry from King Jewelers in Chula Vista.
While employees were distracted and assisting several other customers, the suspect grabbed a display case containing a variety of rings and watches at the store located at 271 Third Avenue.
The suspect ran out the door, past customers with employees in chase.  He threw the display case into the bed of a waiting pick-up truck, jumped into the driver's seat and drove off. Employees ran out to the truck and watched as it sped off northbound on Third Avenue.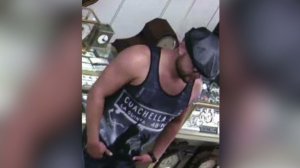 "In hindsight, I shouldn't have a case that valuable not locked up but I never thought anyone would be that brazen," said store owner David Rossi.
The family business has been open for almost 70 years with not one robbery. Now in this tight-knight community of Chula Vista, everyone has their eyes peeled.
"They messed with the wrong shop and if they catch him, he'll find that out and hopefully they will," added Rossi.
The suspect was described as a Hispanic man, between 20 and 27 years old, 5-foot-10 and 185 pounds. He was wearing a black "Coachella" tank top, black pants, gray Nike shoes and a black derby-style hat at the time of the robbery. The Ford F-150 Super Cab truck had a mounted tool box.
Anyone with information on this incident is encouraged to contact Chula Vista Police Department's Property Crimes Unit 619-691-5167, or may call the Chula Vista Police Non-Emergency Line at 619-691-5151.  If you wish to remain anonymous you may call 619-422-Tips or visit the Chula Vista Police Department's website and click on Help Solve A Crime.