This is an archived article and the information in the article may be outdated. Please look at the time stamp on the story to see when it was last updated.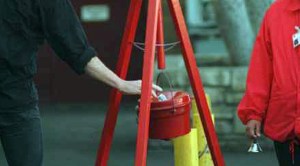 EL CAJON, Calif. — Someone stole a Salvation Army red kettle and the holiday donations in it from in front of a Walmart store, the charitable organization said Thursday.
The kettle was taken from in front of the Walmart off Los Coches Road at about 5 p.m. Wednesday.  The kettle had been outside the store since 11 a.m. and had about $150 in it when it was taken, the Salvation Army said.
"They have stolen not just from The Salvation Army, but from the children we serve, the hungry and homeless we assist and the seniors who rely on us daily," said Captain Masango, the officer in charge of The  El Cajon Corps Community Center.