This is an archived article and the information in the article may be outdated. Please look at the time stamp on the story to see when it was last updated.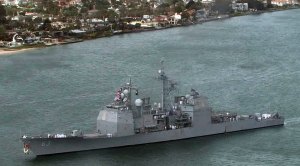 SAN DIEGO — The guided-missile cruiser USS Cowpens and its crew of 400 departed San Diego Tuesday for a seven-month deployment to the Western Pacific, according to the Navy.
The 567-foot Cowpens was based in Japan for 13 years until earlier this year, when it switched home ports with the guided-missile cruiser USS Antietam. The "Mighty Moo" arrived in San Diego in April and underwent an overhaul to modernize its systems.
"Our crew finished repairs and training in four months and now the `Mighty Moo' is back and ready for action," said Capt. Greg Gombert, the commanding officer.
Cowpens is named after the American Revolutionary War battle fought on Jan. 17, 1781, at the "Cowpens' in South Carolina. During the battle, American soldiers defeated a much superior force of British soldiers, giving the American Army the confidence to pursue the British from South Carolina to Yorktown, Va.