This is an archived article and the information in the article may be outdated. Please look at the time stamp on the story to see when it was last updated.
If there's one thing motherhood takes away from you, aside from your once perky bod, it's spontaneity.  Correction, there's things that go wrong spontaneously, just nothing good happens spontaneously.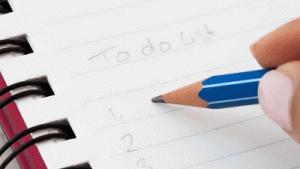 I'm having one of those days.  One of those stark reminders that if I don't schedule every activity down to the finest detail the day crashes and burns in blaze of glory.  From carpools to practices to the dinner menu, I am nearly out of minutes on my data plan on my cell phone from trying to straighten it all out.   I should have some kind of certification from Cal Fire or San Diego Fire Department for all the fires I put out today.
I even apologized to my 13 year old son for all the "crazy confusion this afternoon."  His response:  "Try harder next time…just joking."  The truth is, he's right.    I do have to try harder every day, just to keep my head above water, like all modern moms.  And I was trying to skirt some of my responsibilities these past 24 hours, by not drawing up my usual weekly calendar.  I just didn't feel like it.  Henceforth, my "spontaneous day" or missed carpools, erroneous practice times, zero edible food for dinner and children in full scale panic mode.  Did I mention I spontaneously forgot to wash my son's baseball "undergarments" and have that all ready to go – so he almost blew a gasket.
If it wasn't so tiring, it would be funny.  Okay, it is funny.  But it's also tiring.  That's why mothers drink wine, get pedicures or religiously watch such high brow shows as "Keeping up with the Kardashians" and "Real Housewives of Orange County."  We need mental breaks or so help me, there will be a mental break down.
Spontaneous combustion is not the way to go.
So enjoy all you moms out there!  (Just make sure you plan it out.)